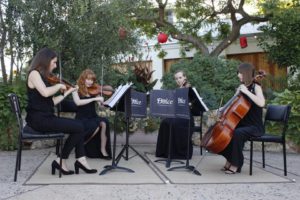 A warm summer evening in the beautiful surrounds of Perth City Farm, was the perfect place for a laid back, lantern-filled event for Chinese New Year brought to you by Backyard Events last year in Feb.
We were so lucky to be a part of this one, starting the performances for the night and leading guests into the venue for delicious food, wine and good times to the tune of some of our favourite Dolce string quartet covers of contemporary tunes you all know and love! Performing on the night, our string quartet consisted of Christina Katsimbardis (violin), Madeleine Antoine (violin), Kathy Potter (viola) and Sidney Harvey (cello).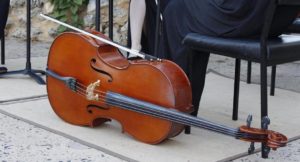 When we are booked for these kinds of do's, it's so important to work with the events team to make sure we can find the right fit of repertoire for the night – working with Bree was a dream! After viewing and listening to our online performances she was happy to leave it up to us with the music selection, keeping in mind that contemporary tunes would work well for the guests (and the vibe!), and so we picked some upbeat Dolce classics including Chandelier – Sia, Firework – Katy Perry, Home – Edward Sharpe & the Magnetic Zeroes and possibly the most fitting pick for the evening, Lanterns – Birds of Tokyo.
Some lower beat, old school hits came out to change it up with tunes like Hallelujah – Jeff Buckley, Can't Help Falling in Love – Elvis and Over the Rainbow – the Israel Kamakawiwo'ole version – which guests enjoyed seated around where the quartet was positioned under the trees.
Following our set, one-man-band Jimmy Wilson performed as well as acoustic covers by Ari Davis entertained guests well into the evening.
++++++++++++++++++++++++++++++++++++++++++++++++++++++++++++++++
Have you checked out our Soundcloud?
We record as often as we can with string quartet to make sure we are constantly updating all you with new string arrangements and covers – both to help with music decisions and just generally give you all a little inspiration when it comes to involving live music at your event.
It can often be hard to imagine your favourite tracks in the form of a string quartet, trio, duo, solo or including flute and harp….[takes deep breath in!]….but do in touch if you have some wild ideas.
You'd be surprised at past music requests we have been able to make into a musical reality!
K + S xx