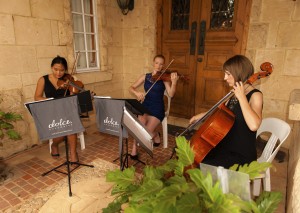 On a very warm and unusually rainy day, Jarred & Fiona held their wedding at the picturesque Brookleigh Estate in Caversham earlier on in the year.
Our string trio played classical music on the couple's request to accompany their moving ceremony with family and friends.  Before the ceremony began, the trio played a mix of reflective classical music which added a beautiful touch to the elegant setting while guests mingled and waited for the bridal party to arrive.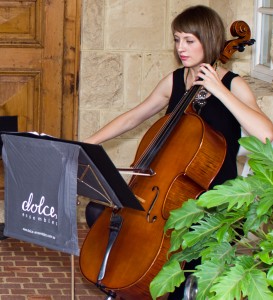 The choices for music during the ceremony included Flower Duet from Lakme by Delibes for the entrance of the flower girls and bridesmaids followed by Pachelbel's Canon as the stunning bride walked down the aisle.  The ceremony continued in the light rain, but there were smiles all round for the happy couple – the trio was sheltered away from the weather underneath the beautiful building just behind where the ceremony was taking place!  For the conclusion of the ceremony the trio played Hornpipe by Handel, a very uplifting piece to congratulate the lovely couple.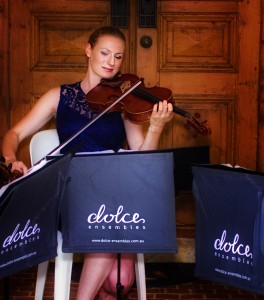 Visit our Audio Samples page here where you can listen to all of these popular classical choices and more to help you decide on the perfect music to accompany your wedding or event.
Thank you to Kevin from SAKS Photography for the lovely images.