"Thank you so much to your wonderful musicians for an amazing performance yesterday. You all helped to make our wedding an inspirational gentle affair enjoyed by all." – Sharon & Jorn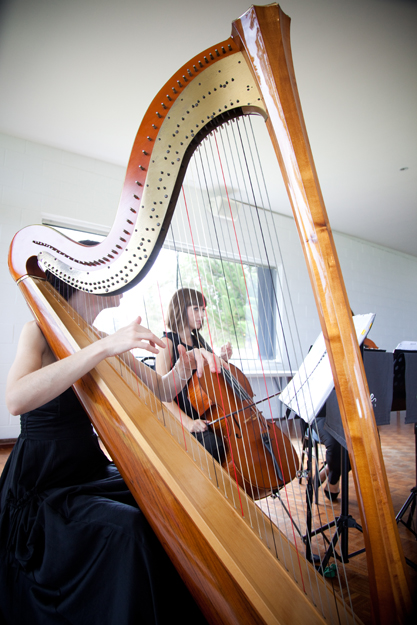 Sharon and Jorn were married at the beginning of May at the Seaview Golf Club in Cottesloe.  The couple were married inside the country club surrounded by family and friends, although overlooking a grey and somewhat stormy day.  The event began at around lunchtime and the couple requested two ensemble choices for their long booking – firstly, a harp trio (violin, cello and harp) played as guests arrived at the venue and also during the ceremony.  The mature couple involved their family and friends in their Pagan wedding ceremony, including their children, making it a very memorable occasion.
They chose the beautiful Serenade to Spring by Secret Garden to begin the proceedings – the children entered first, followed by Sharon's parents who waltzed down the aisle before she entered in bright pink!!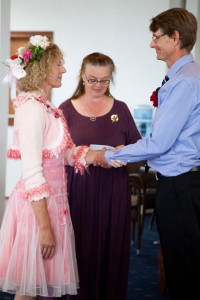 All of the guests were beaming as the couple greeted each other.
As a Pagan ceremony, the inclusion of family and friends continued and as the couple finally signed the register and the harp trio played Leonard Cohen's Hallelujah followed by Beautiful Day by U2 as they were officially announced as husband and wife.
Following the ceremony, the couple had chosen to mix up their ensemble choice and change into a string trio.  With the arrival of another violinist, the trio continued as background music and entertainment for the guests as they congratulated the couple, drank wine and ate delicious canapes of every kind supplied by Word of Mouth Catering – the food really was delicious! 😉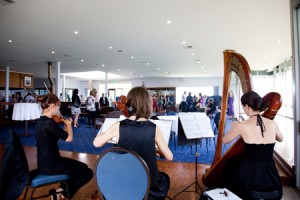 The couple provided an extensive list of requests – classical choices included Eine Kleine Nachtmusik by Mozart, Pachelbel's Canon in D, Salut d'Amour by Elgar and Air on the G String by J.S.Bach.  Their contemporary list included popular choices like Can You Feel The Love Tonight by Elton John, Moondance by Van Morrison and What A Wonderful World by Louis Armstrong among many others.
It was such a lovely day and thank you to everyone for making us feel so welcome! x