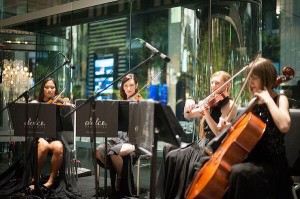 Toward the end of February, Dolce Ensembles was lucky enough to be a part of the Perth Fashion Festival's 17th Annual WA Fashion Awards ceremony.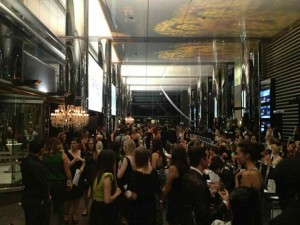 This beautiful event was held at brand new Brookfield Place in the Perth CBD and our string quartet played contemporary background music as local fashion designers and guests arrived for drinks and canapes outside.  As we played, we watched guests being interviewed and the area was buzzing with the anticipation of the awards ceremony to come.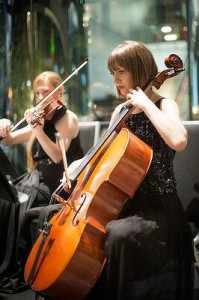 Later in the evening, guests shuffled inside for the beginning of the awards and the quartet also moved inside as we were playing during the fashion parade that was to showcase the nominated designers and their latest collections.  As we waited, we watched as many designers claimed their awards and before we were scheduled to play, an aerialist performed some amazing stunts on long pieces of material hanging from the impossibly high ceiling at the opposite end of the area. As the lights dimmed and the music faded, an extremely bright spotlight was our cue to begin the music for the catwalk.
It was an unusual choice for string quartet but the fusion of Led Zeppelin's Kashmir and Tame Impala's Elephant worked brilliantly for the ensemble (not to mention it was great fun to play!). As the models finished their walk, the lights faded and the quartet finished to let the awards ceremony continue.
It was such a fantastic night and we would like to thank the beautiful Steph Audino for the loan of some absolutely stunning dresses!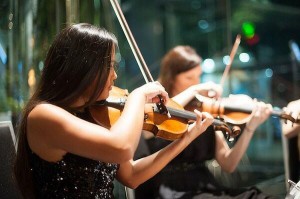 For more information on corporate functions, please visit our website here. Also, have a listen to some of our contemporary recordings here and feel free to contact us for more information on how Dolce Ensembles can be a part of your next corporate function or event.