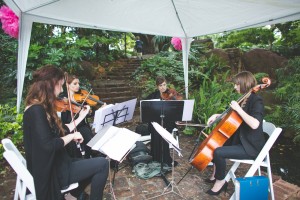 The couple chose the beautiful Harold Boas Gardens to be the setting for the wedding ceremony. We were lucky that the couple had a marquee for us to play in, as we were met with very rainy weather on this November afternoon. The string quartet played an extensive list of requests made by the couple including popular classical pieces such as Tchaikovsky's 'Waltz of the Flowers' and Mouret's 'Rondeau'. Contemporary pieces included Lior's 'This Old Love' and Radiohead's 'High and Dry'.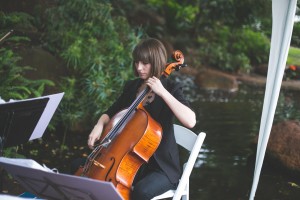 Winnie walked down the aisle to the ever so popular Pachelbel's Canon and the couple signed the register to Delibe's 'Flower Duet' from the opera Lakme. After the couple were announced husband and wife, we played the triumphant 'Ode to Joy' written by Beethoven.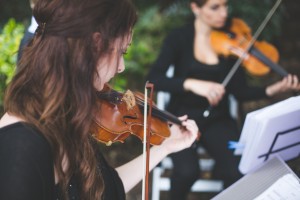 A highlight for us was the yummy icecreams – the wet weather stopped none of us from munching on the delicious flavours including Coconut, Pineapple and Chocolate.
These beautiful photos were taken by Keegan Wong Photography – his website is available here and be sure to check out his Facebook page.