Every couple that comes to us is different and your music selection will reflect who you are individually and as a couple – maybe you have some favourites you have been singing along to together for years, the song that was playing when you first met or got engaged… or your couple's karaoke classic?!?
But after choosing your ensemble, whether it is a string quartet, string trio, string duo (or any other combination in between!) selecting your ceremony music can be tricky – so we've outlined all the bits'n'bobs to help you create the right mix of tunes.
SECTIONS OF THE CEREMONY FOR MUSIC
PROCESSIONAL | 1 OR 2 choices
This is the entrance of the bridal party and can be done, most commonly, in one of two ways:
One music choice – to accompany all of your flower girls/page boys/bridesmaids including the bride down the aisle
Two music choices – the first choice to accompany the bridal party followed by a slight pause before beginning the second choice for the bride only.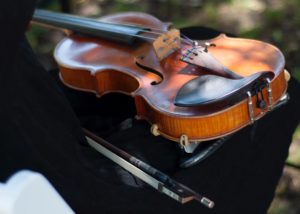 e x a m p l e s
TRADITIONAL CLASSICAL ENTRANCE
Flower Duet – Delibes &/or Canon in D – Pachelbel
You may also like: Bridal Chorus – Wagner (Here comes the bride…) as the second traditional choice for the bride's entrance
CONTEMPORARY ENTRANCE | Traditional + a modern twist
A Thousand Years – Christina Perri &/or All of Me – John Legend
All of these choices work equally well together for two separate entrance choices or simply on their own to allow you to hear more of the song or piece
SIGNING OF THE REGISTER | 1-2 choices
Music to accompany the newlyweds sign on the dotted line after the I-do's.  Typically, two choices here work well in case things take a little longer than expected.
RECESSIONAL | 1 choice
The exit of the newly married couple and bridal party for congratulations and of course, the party!  This is the time to pick something upbeat to celebrate your marriage, to lead guests out of the ceremony venue on a high and perhaps create a connection to the vibe you have created at the reception.
THE RECOMMENDATIONS
Feeling overwhelmed yet? The choice of music is endless (just have a look at our repertoire list!) so we've come up with some of our favourite combinations for the whole ceremony below, choices that we think work every time and also just to help guide you in how to include your own particular favourites.
Processional | Canon – Pachelbel &/or Bridal Chorus – Wagner
Signing | Air – Bach OR Flower Duet – Delibes
Additional Sections | Gabriel's Oboe – Morricone OR Winter – Vivaldi
Recessional | Queen of Sheba – Handel OR Wedding March – Mendelssohn
Contemporary Romance
Processional | A Thousand Years – Christina Perri &/or All of Me – John Legend
Signing | How Long Will I Love You – Ellie Goulding OR Thinking Out Loud – Ed Sheeran
Additional Sections | Fields of Gold – Sting OR This Old Love – Lior
Recessional | Viva la Vida – Coldplay OR Bittersweet Symphony – The Verve
Classic Meets Modern
Processional | Canon – Pachelbel &/or Flower Duet – Delibes
Signing | Perfect – Ed Sheeran OR Make You Feel My Love – Adele
Additional Sections | Over the Rainbow (Hawaiian) OR Intermezzo from Rusticana – Mascagni
Recessional | Hornpipe – Handel OR All You Need is Love – The Beatles
Vintage Vibes
Processional | At Last – Etta James &/or Wonderful Tonight – Eric Clapton
Signing | Can't Help Falling in Love – Elvis/Ingrid OR Moon River
Additional Sections | La Vie En Rose – OR Your Song – Elton John
Recessional | Stand By Me OR L.O.V.E.
Alternative Inspired
Processional | Do You Realise &/or Chicago – Sufjan Stevens
Signing | The Luckiest – Ben Folds OR First Day of My Life
Additional Sections | Us – Regina Spektor OR Come to Me – Goo Goo Dolls
Recessional | Just Like Heaven – The Cure OR Home – Edward Sharpe & the Magnetic Zeroes
|| Don't hesitate to let us know how you want your ceremony to go and we will do our thing to make sure the music accompanies your unique and personal proceedings without a hitch!  Feel free to get in touch to discuss your wild ideas, we can't wait! ~ K + S x ||